CAR-T therapy is like science fiction made real, patient says | MUSC
"I'm now a GMO. I'm a genetically modified organism," jokes Marty Perlmutter, Ph.D.
The retired professor of philosophy and director emeritus of the Yaschik/Arnold Jewish Studies Program at the College of Charleston has had the unfortunate opportunity to watch up close as medical science has progressed – he's dealt with different cancers for more than a decade now. But he's also been able to receive the newest treatments, including CAR-T-cell therapy at MUSC Hollings Cancer Center for his lymphoma.
"In some ways, I don't have my own blood anymore," he explained of the treatment. "I have blood that's modified to fight the blood cancer."
It's like science fiction become reality, he said.
CAR-T therapy is a treatment that is as simple in concept as it is nuanced in execution: Retrofit existing immune cells to better recognize and fight cancer. Brian Hess, M.D., an oncologist who focuses on lymphoma, oversaw Perlmutter's treatment.
"I think it really makes us feel lucky that we have this type of therapy that we can offer patients," he said. "If we go back just to a few years ago when these therapies were in clinical trial and they weren't approved, these patients had very little to no options otherwise in terms of treating their cancer, and they really didn't have much hope."
CAR-T-cell therapy
CAR-T stands for chimeric antigen receptor T-cell therapy. The therapy is Food and Drug Administration approved for several types of lymphoma, B-cell acute lymphoblastic leukemia and multiple myeloma – but only for patients who have already gone through standard chemotherapy and relapsed.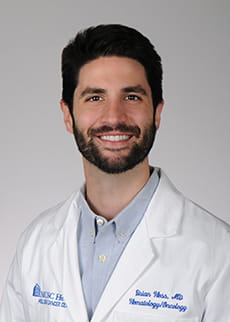 That was the case for Perlmutter who, after a diagnosis of chronic lymphocytic leukemia, had previously participated in a National Institutes of Health clinical trial of ibrutinib, a drug that's now commonly used.
Though Perlmutter initially had good results, the cancer eventually went through a Richter's transformation, a rare complication in which chronic lymphocytic leukemia transforms into an aggressive lymphoma. An initial course of chemotherapy didn't work. Hess said it was unlikely that continued chemotherapy would have accomplished anything other than introducing more toxicity, so it was on to CAR-T.
The treatment requires several steps over about a month's time. First, a patient's T-cells, which are part of the immune system, are removed in a process called apheresis, which is somewhat similar to a blood donation. The difference is that as the blood is collected, the fraction with T-cells are separated, and the rest of the blood is returned to the patient. From there, the T-cells are sent to the lab to be modified so that they express the chimeric antigen receptor, or CAR.
"Programming a T-cell to express a CAR receptor causes that T-cell to be directed against a specific protein on the surface of the cancer cell. In the case of lymphoma, that is CD19," Hess explained. "In other words, adding a CAR onto a T-cell gives that T-cell a specific job, which is to attack the cancer cell that expresses that protein."
"Adding a CAR onto a T-cell gives that T-cell a specific job, which is to attack the cancer cell that expresses that protein."

Brian Hess, M.D.
The T-cells must come from the individual patient who is going to be treated. That eliminates the chance that the T-cells will start attacking organs in addition to the cancer.
There's still the possibility of serious side effects, though. Because the CAR-T-cells continue to multiply inside the body, they can sometimes cause things like fever and confusion, Hess said. Some patients need to be admitted, and that was the case for Perlmutter, who was briefly hospitalized. Nonetheless, the side effects can be managed and reversed, Hess said, and Perlmutter noted that he was quickly back to normal life.
'Purified' CAR-T
Two important questions in the field of CAR-T right now are how to make CAR-T safer and how to make it more effective. Reducing side effects and improving the efficacy of CAR-T is the focus of a small clinical trial that will get underway later this summer at Hollings.
Building upon the work of Michael Nishimura, Ph.D., of Loyola University Chicago and his colleagues there, the Center for Cellular Therapy at MUSC, under the direction of Shikhar Mehrotra, Ph.D., will manufacture "purified" CAR-T-cells.
The idea, Hess said, is that currently, there are other products of the immune system that are infused into patients along with the CAR-T-cells – such as T-cells in which the CAR didn't take, for example, as well as other cellular components – which may increase the risk of side effects. By adding an additional tracker protein onto the CAR-T, the lab will be better able to grab only the CAR-T-cells and infuse only those cells into the patient, which should reduce side effects.
In addition, Mehrotra is taking the blueprint from Loyola and altering the way the CAR-T-cells are activated in a way that the team expects will help the CAR-T-cells to persist longer and to be more effective. Hess lauded Mehrotra's work, noting that the trial wouldn't be possible without his contribution.
Across the nation, researchers are working to see if CAR-T can be used on solid tumors or can be manufactured in an off-the-shelf fashion.
These goals are challenging. With solid tumors, the challenge is finding a target that is unique to the cancer so that the CAR-T-cells won't also cause severe toxicity, Hess said.
"You have to find the appropriate target, which is really like the holy grail for all of these other types of cancers," he said.
And it's not clear yet if mass-produced CAR-T-cells could be as effective as ones derived from the patient's own body.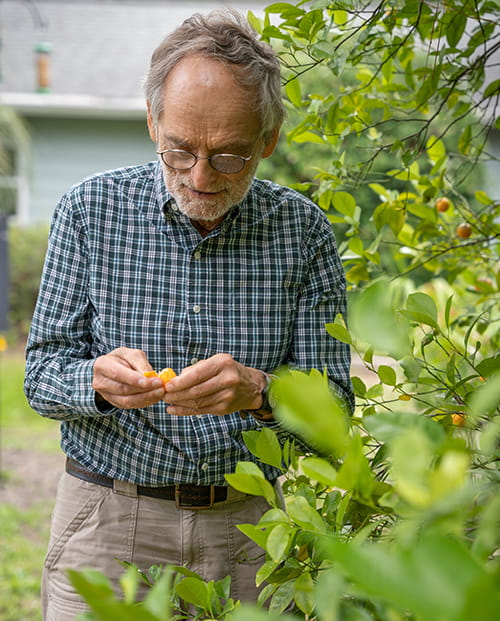 Perlmutter is eager to see where the science goes next.
"I've said for a number of years that I want to be one step behind the science. The treatments have changed so rapidly over the last 10 years," he said. "CAR-T is an absolute game changer. Hopefully they will navigate a way to treat solid cancers."
Perlmutter's lymphoma went into remission after the CAR-T therapy. In fact, his adult children organized a one-year CAR-T anniversary party on May 4 to celebrate the remission. Hess was there, as were other Hollings providers and staff members.
Hess said Perlmutter's personality is infectious. CAR-T-cell therapy necessitates an entire team to provide the care, and the team members who took care of Perlmutter universally loved taking care of him. They were all rooting for him.
"He has such a wonderful family as well," Hess said, especially pointing to Perlmutter's wife, Jeri, whose caregiving was essential after the CAR-T treatment. Perlmutter called his wife a "caregiver extraordinaire, understanding the challenges that I was facing, while living through her own uncertainties about the future, all the while encouraging me to continue enjoying life to the fullest."
As a professor, Perlmutter studied medical ethics. He even served on the MUSC ethics committee. But living through a cancer diagnosis and treatment has given him new insights.
"It has taught me that my students were somewhat smarter than I was in some ways because they, when you'd ask them a question, they'd say, 'Well, you have to be there.' And I think there are some things about cancer where you just have to be there. It has been an education," he said.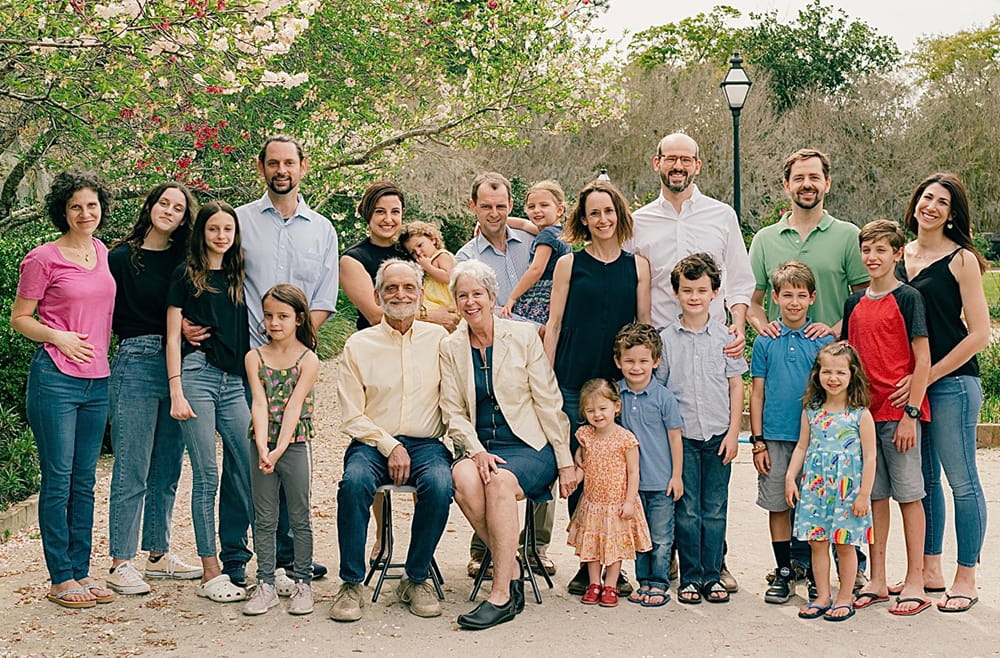 Perlmutter is grateful for the gift of ordinary days with his wife, four children and 11 grandchildren. Over the past decade, supportive friends have helped just by showing up – for coffee, walks or games of bridge. Buttressed by family and friends, he's been able to live a full life despite cancer, he said.
"Life is good," he said. Waking up to work in the garden, check out what's flowering and which fruits are ready to pick, and watch the birds that are attracted to the bird feeders provides a quiet joy. So does a morning cup of coffee and the company of his family.
"Having been retired for the last three or four years, I just enjoy having the time and feeling well, and I'm very thankful for that."
Source link