Loveman Cristal, Sondra | Obituaries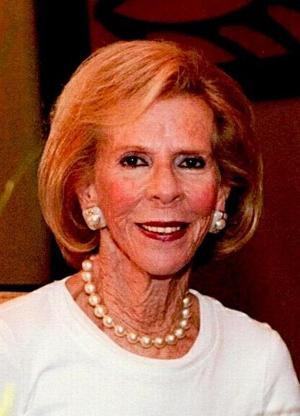 Born in Cleveland, Ohio to Rose and Ben Fain on April 24, 1938, Sondra Loveman Cristal (Fain) passed away suddenly, but peacefully on August 13, 2022, at the age of 84. She left too soon, but Sondra lived a very full life in those 84 years, which were filled with family, friends and so much love. Though she lost her own father at the young age of 10, Sondra chose to see the world through rose-colored glasses, honoring her mother's name while living her life with fierce optimism. Despite the hardship, she often called herself the luckiest person because she was fortunate to have not one, but two great loves, the late Thomas W. Cristal and the late S. Michael Loveman.
Sondra brought her positivity to all that she did, infusing her world with an upbeat energy that benefited anyone lucky enough to call her a friend or family. She was a dear, loyal and lifelong friend to many, who were drawn to her thoughtfulness and glass not just half full, but full to overflowing, perspective. As a result, Sondra's social calendar was always packed. She loved every minute of it and so appreciated the generosity she was shown. She made sure those in her life knew she thought of them, too, showering friends and family with small acts of kindness and loving attention through meaningful cards, calls and quality time. For Sondra, friendships were to be honored, family was to be loved and every single moment of life was to be celebrated.
She was an avid bridge player, enjoyed golf, music, reading and was very enthusiastic about her new discovery – Netflix. Dressed impeccably wherever she went, Sondra was known for her fashion flair. She led her life with radiant vitality, and she was fun to be with, never taking herself too seriously and was always on time. She loved a good joke, and her silly sense of humor made her a fast friend to anyone who met her. Her Cleveland and Naples, FL. communities were important to Sondra, and we know how much she will be truly missed by all that knew her.
Sondra leaves behind a very devoted and close-knit family who will carry her positive spirit forward. She was a beloved mother to Brian Loveman (Susan), Mitchell Loveman (Sally Lou), Kristy Harteveldt (Robert), Michael Cristal (Susan) and Jeffrey Cristal (Julie). Loving grandmother to Benjamin Loveman, Zoe Loveman (Brendan Rankowitz), Marin Loveman, Carly Loveman and Billy Loveman, Michael Harteveldt, Ryan Harteveldt and Lauren Harteveldt, Ryan Cristal (Natasha), Andrew Cristal, Sara Cristal and the late Adam Cristal. She was the dear sister of the late Madeline Roberts Schoen (the late Sidney Roberts and the late George Schoen) and the late Charlotte Fain Newman and dear brother-in-law of Gary Newman. Loving aunt to the late Kim Newman, Brad Newman (Sue), the late Keith Newman (Alessandra), Tracy Myers (Rob), Marlene Roberts (the late Igal Cohen) and the late Bonita Roberts (the late Phillip Allen).
Sondra was involved with and supported the following philanthropic causes: The Cleveland Sight Center, The Peter D. Cristal Chair of Neurosurgical Oncology (University Hospitals) and the Women IN Philanthropy (Jewish Federation of Cleveland).
Sondra was a graduate of Shaker High School in 1956 and attended Endicott Junior College.
Friends who wish to make a donation may contribute to The S. Michael Loveman/Kim Newman Cancer Research Fund at University Hospital, Cancer Research Fund, c/o The University Hospitals of Cleveland (UHGiving@UHhospitals.org) or by mail: University Hospitals Institutional Relations & Development, P.O. Box 94554, Cleveland, OH 44101-4554, or a fund of your choice.
There will be a "Celebration of Life" Memorial Service at 2:30 p.m. Oct. 24 at The Temple-Tiferith Israel located at 26000 Shaker Blvd. in Beachwood. The family will receive family and friends immediately following the service at the Temple.