Morris, Allan | Obituaries | clevelandjewishnews.com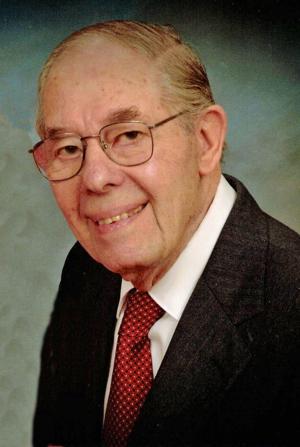 Allan Morris passed away on May 4, 2022, in San Diego, where he lived at Seacrest Village for the past several years. He was 97 years old. Previously, he had lived in Cleveland for over 60 years.
Allan is survived by his wife of 70 years, Marguerite; two sons and daughters-in-law; a niece; four grandchildren; five great-grandchildren; and a number of grandnieces and nephews. Allan was also the brother of Frances Gertz of Chicago (deceased).
Allan was born in Akron and graduated from Buchtel High School. He served three years in the U.S. Army, including in Patton's Third Army in France and Germany. Returning from the war, Allan earned a Bachelor of Science degree in electrical engineering from Illinois Institute of Technology and began his career at General Electric testing electrical equipment.
Being very inquisitive and resourceful, he left GE to apply both his technical and communications skills to a long career in writing, public relations and consulting. He began working for Hydraulics and Pneumatics, wrote for a technical magazine and advanced to become its editor. He went on to become director of communications for a number of public corporations, including Sherwin Williams, First Union Real Estate Investments and Parker Hannifin, and also worked as a staff editor for Ernest & Young's consulting division.
After retiring, Allan began his own consulting firm and undertook many technical editing and shareholder relations assignments.
In addition to a busy career, Allan always found time for family and other pursuits. There were family vacations, volunteering in Boy Scouts and much needed help for school writing and science projects. An avid swimmer, Allan set and achieved a goal of 2000 miles, a half mile at a time. In addition to his creative writing skills (which included writing poems and programs for family and friends' events), Allan drew many striking portraits of famous people from their photographs.
Allan was an ardent Zionist. He was a member of Anshe Chesed Fairmount Temple for 65 years and served on its board of trustees. He was the founding chairman of the Fairmount Temple chapter of the Association of Reform Zionists of America, and was a member of the Israel Task Force of the Jewish Community Federation, AIPAC and the Friends of NA'AMAT USA. He and Marguerite traveled extensively in the U.S. and internationally, including seven trips to Israel. He also worked as a consultant to form strategic alliances between Israeli and American companies.
Allan will be greatly missed by his family and friends in Cleveland, San Diego, North Carolina, Boston, Chicago, Israel and elsewhere, and by the Jewish community to whom he contributed so much.
Funeral services will be held at 1:30 p.m. May 8 at Anshe Chesed Fairmount Temple, 23737 Fairmount Blvd. in Beachwood. Those choosing to attend must wear a mask.
To view this service on May 8, please navigate to fairmounttemple.org/worship/live-stream.
Donations may be sent to Anshe Chesed Fairmount Temple (fairmounttemple.org), 23737 Fairmount Blvd., Beachwood, OH 44122 or to NA'AMAT USA Cleveland Council (naamatcle.org), 5001 Mayfield Road, #317, Lyndhurst OH 44124.
Fond memories and expressions of sympathy may be shared at bkbmc.com for the Morris family.
Arrangements under the direction of Berkowitz-Kumin-Bookatz Memorial Chapel.