Resnik, David | Obituaries | clevelandjewishnews.com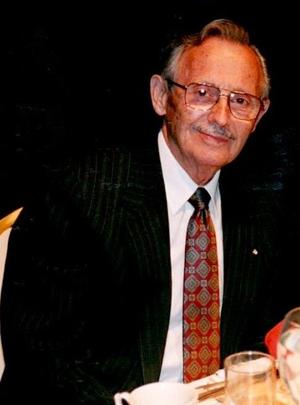 David Israel Resnik died peacefully May 31, 2022. He was 96. He was a resident of R.H. Myers in Beachwood, formerly of Orange.
David was born March 14, 1926, in Palestine to Jacob and Anna Resnik. As a child, he immigrated to Cleveland with his parents and six siblings. David graduated from Glenville High School. He was a decorated veteran of WWII, the youngest in his unit. He was a pawn broker and in the jewelry business for over 50 years. David was a devoted member of the University Heights Lodge #738 F. & A. M. as well as Jewish War Veterans Post 44 and Forest City Hebrew Benevolent Association, among other organizations. David enjoyed swimming and golf, tending to his vegetable garden, singing, and he kept his radio tuned to the big band era of music. David's ability to recall intimate details of decades-old memories will be sorely missed. He was a true storyteller. As his late wife, Carol, lovingly hosted seders, David led them. Their home of 72 years together was a gathering place.
He is preceded in death by his beloved wife, Carol (Glick); and his siblings, Joseph, Marvin, Albert, Julius, Harold and Shirley Segal. David is survived by his children, Julius (Harriet) Resnik of Orange, Paul (Susan) Resnik of Estero, Fla., Larry (Jennifer) Resnik of La Quinta, Calif., Marty (Sherri Appleton) Resnik of Cleveland Heights and Marsha (Lenny) Shamis of Bradenton, Fla.; grandchildren, Brian (Genevieve), Josh (Hemina), Casey, Max (Marisa), Jake (Haleigh), Lydia and Sam Resnik, Stacey (Michael) Scarnato, and Benjy (Alicia), Matthew and Jessie Paley; great-grandchildren, Dylan Scarnato, Judah Paley, and Brilynn, Greysen, Jasmine, Layne and Ellis Resnik; and dear friend Walter "Wally" Christ.
Friends and family graveside services will be held at 10 a.m. June 2 at Mount Olive Cemetery, 27855 Aurora Road in Solon. Due to COVID-19, the family requests no visitation.
Friends who wish may contribute to Magen David Adom (afmda.org) and the Red Cross (redcross.org).
Family and friends who are unable to attend the service may view it beginning June 3 by going to YouTube under search enter "David Resnik Funeral Service".
Arrangements under the direction of Berkowitz-Kumin-Bookatz Memorial Chapel.