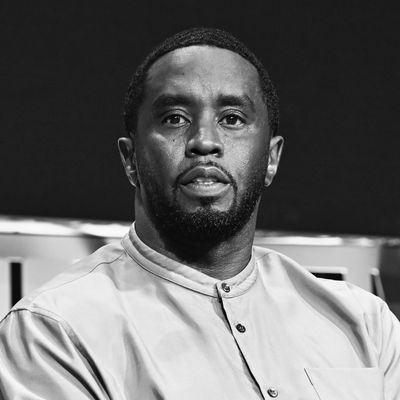 Photo: Paras Griffin/Getty Images
Sean Combs, also known as Diddy, has been accused of rape and physical abuse by his former girlfriend, the singer Cassie. The New York Times reports that on Thursday, Cassie (real name Cassandra Ventura) filed a suit in Manhattan's Federal District Court alleging that Combs began abusing her not long after they met in 2005, when she was 19 and he was 37. She also claims that in 2018, Combs forced himself into her home and raped her.
"After years in silence and darkness, I am finally ready to tell my story, and to speak up on behalf of myself and for the benefit of other women who face violence and abuse in their relationships," Ventura said in a statement to the Times.
In her suit, Ventura claims that Combs had an astounding level of control over her life. She claims Combs provided her with "copious amounts of drugs" and frequently became violent, beating her "multiple times a year." Additionally, the suit claims that Combs made Ventura "engage in a fantasy of his called 'voyeurism,'" which she says involved having sex with male sex workers while Combs masturbated, filmed, and took photos. Ventura says that she took drugs at these events — supplied by Combs — because they "allowed her to disassociate during these horrific encounters."
According to the court filing, in 2018, Combs forced himself into Ventura's apartment after the two met for dinner. Ventura says he then raped her while she "repeatedly said 'no' and tried to push him away." Shortly afterward, she ended their relationship.
In a statement to the Times, Combs's lawyer, Ben Brafman, denied the allegations.  "Mr. Combs vehemently denies these offensive and outrageous allegations. For the past six months, Mr. Combs has been subjected to Ms. Ventura's persistent demand of $30 million, under the threat of writing a damaging book about their relationship, which was unequivocally rejected as blatant blackmail. Despite withdrawing her initial threat, Ms. Ventura has now resorted to filing a lawsuit riddled with baseless and outrageous lies, aiming to tarnish Mr. Combs's reputation and seeking a payday."
Ventura's suit includes some other startling claims. According to her, the mogul was so upset about her dating rapper Kid Cudi in 2012 that he said he would blow up Cudi's car. "Around that time," the suit says, "Kid Cudi's car exploded in his driveway." Ventura's lawyer, Douglas Wigdor, also told the Times that Combs offered the singer "eight figures" in order to "silence her" and "prevent the filing of this lawsuit."
The Cut has reached out to representatives for Combs and Ventura for comment and will update this post when we hear back.