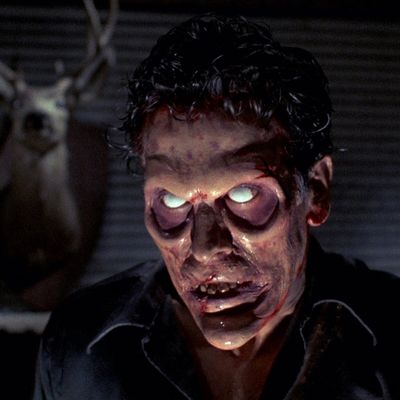 Evil Dead 2.
Photo: Courtesy of the Studio
This article is regularly updated as titles leave and enter Shudder. *New titles are indicated with an asterisk.
Horror fans know there's only one streaming service that they need to have — Shudder. Launched in 2016 and operated by AMC Networks, Shudder is one of the most smartly curated and densely stocked catalogs of any streaming service. Non-horror fans might write it off as something they don't need, but Shudder really could appeal to anyone. It reveals how much variety there is within the word "horror," and it's being constantly updated with some of the best original film offerings of any streamer. Don't miss out. And start with these 30 films now on the service, really just a taste of the hundreds of movies and original programs offered by Shudder, starting with this month's critic's pick.
Year: 1987
Runtime: 1h 24m
Director: Sam Raimi
One of the best horror-comedies ever made, this 1987 movie is basically a remake of the 1981 original, a film made when buddies Sam Raimi and Bruce Campbell went into the woods and came back with movie history. It's a perfect movie, a great blend of humor and gore that should have made Campbell a household name. Decades later, the franchise is still going strong with the 2023 release of Evil Dead Rise. In fact, everything but that movie is on Max, including the Raimi trilogy and the 2013 reboot.
Year: 2016
Runtime: 1h 26m
Director: Andre Ovredal
The director of The Last Voyage of the Demeter broke through with his one-setting gem, which takes place in one of the most inherently terrifying places in the normal world: a funeral home. A father (Brian Cox of Logan Roy fame) and his son (Emile Hirsch) are preparing the body of a Jane Doe for burial when, well, things start to get weird. Clever and creepy, this is a great horror movie just in time for spooky season.
Year: 2016
Runtime: 1h 37m
Director: Can Evrenol
You may not be ready for this one. A Turkish film that first launched on the fest circuit, it's the story of a group of police officers on an investigation who quite literally open a portal to Hell. With echoes of Lovecraft and Cronenberg, it's a sensory overload, visions of Hell unleashed on Earth in a way that most American filmmakers would never even consider. There's nothing else quite like it on Shudder.
Year: 1962
Runtime: 1h 18m
Director: Herk Harvey
One of the best horror movies ever made, Herk Harvey's 1962 film is an early cult classic, a film made for almost no money that became an influential masterpiece. Candace Hilligoss plays a woman who starts having terrifying visions after surviving a car accident. These visions lead her to an abandoned carnival. You can see this film's DNA in hundreds of horror movies to follow, but it's still wonderfully creepy when judged on its own terms.
Year: 2020
Runtime: 1h 50m
Director: Richard Stanley
Richard Stanley co-wrote and directed an adaptation of the H.P. Lovecraft short story of the same name, marking his first time behind the camera since the disastrous 1996 production of The Island of Dr. Moreau. Color Out of Space went much better. Nicolas Cage plays the patriarch of a family that moves to a remote farm, at which a glowing meteor seems to crash in the front yard. And then things get really weird in a way that only a Lovecraft movie can.
Year: 2020
Runtime: 1h 35m
Director: Bryan Bertino
Released during the first year of the pandemic, Bertino's indie horror movie may be the most underrated on this list given how much it got buried by real-world problems. Marin Ireland and Michael Abbott Jr. play siblings who return to their remote family farm in Texas to discover that something is wrong with mom and dad. As their father's health worsens, strange things start happening around the farm, culminating in a final act of terrifying visceral power.
Year: 1976
Runtime: 1h 44m
Director: Dario Argento
There's a reason that so many horror directors bow at the altar of Dario Argento, the king of the giallo film. Also known as The Hatchet Murders, Deep Red is one of his masterpieces, a great starting point if you're just getting into Argento's career. The story of a pianist (David Hemmings) who gets caught up in the investigation into a serial killer contains some of Argento's most unforgettable set pieces. The superb score by Goblin doesn't hurt.
Year: 2015
Runtime: 1h 20m
Director: Sean Byrne
Sean Byrne wrote and directed this excellent 2015 slow burn about two men who hear voices. One, played by Pruitt Taylor Vince, commits horrible murders after doing so. Another, played by Ethan Embry, seems to be overtaken by a spirit as he paints his art in the same house. The two paths intersect after the killer tries to find his way home. It's a great genre movie that came out just before the recent horror renaissance of the 2020s. It would likely be massive today.
Year: 2018
Runtime: 1h 44m
Director: Sebastian Gutierrez
Sebastian Gutierrez's 2018 indie horror flick is a vivid reimagining of the story of Bluebeard, starring Abbey Lee, Ciaran Hinds, and the always-great Carla Gugino. Lee, one of the stars of The Neon Demon, plays the new young wife to a powerful and wealthy man who tells her that there's only one room in the house that's totally off limits. Of course, curiosity gets the best of her. Vividly striking in ways that low-budget horror rarely is, it's a crazy memorable piece of work.
Year: 1978
Runtime: 1h 30m
Director: John Carpenter
Maybe you've heard of it? It seems unlikely that anyone subscribing to a service called Shudder hasn't seen John Carpenter's game-changing masterpiece, but maybe it's been a few years for you and you're considering a revisit. You really should go back to Haddonfield and see where the saga of Michael Myers began. It's the rare horror movie that can send chills up your spine every time you see it.
Year: 2002
Runtime: 1h 26m
Director: John Adams, Zelda Adams, Toby Poser
The Adams family rules. A New York family of filmmakers, they write, direct, shoot, edit, and star in their films, including the excellent The Deeper You Dig, also on Shudder. Their latest stars Zelda Adams, the daughter of the filmmaking crew, as a teenager who has been isolated from society but discovers that they have a connection to witchcraft that could destroy everyone. An original coming-of-age tale, it's further evidence that everyone should know the Adams movies.
Year: 1987
Runtime: 1h 33m
Director: Clive Barker
Clive Barker's debut directorial effort, working from his own screenplay, may be the best cinematic example of a writer translating his vision from the page to the screen. Shakespearean in its examination of family betrayals and unchecked evil, Hellraiser is a movie that works just as well today as it did thirty years ago. Note: You can also check out the underrated Hellbound: Hellraiser II on Shudder and make it a double feature. Lock the doors first. None of the other sequels are on Shudder right now, but that's probably for the best.
Year: 2020
Runtime: 56m
Director: Rob Savage
Rob Savage directed the first major pandemic-produced horror film, a movie about a séance gone wrong over Zoom, which was filmed while the COVID-19 outbreak shut down the world. Directing the project via Zoom himself, Savage produced a surprisingly effective piece of work. And it only runs 56 minutes!
Year: 2023
Runtime: 1h 32m
Director: Kurtis David Harder
One of Shudder's best recent originals is a incredibly clever and unpredictable thriller about an Instagram star who finds herself off the grid in Thailand. When her passport goes missing, she ends up traveling with a new friend, learning the hard way that there are some things that can't be conveyed on social media. This movie is never quite what it seems at first, but it's always smart and thrilling.
Year: 2016
Runtime: 1h 40m
Director: Karyn Kusama
Will (Logan Marshall-Green) and Kira (Emayatzi Corinealdi) are going to a dinner party in the Hollywood Hills, hosted by Will's ex-wide Eden (Tammy Blanchard). As if that wouldn't normally be awkward enough, there's something strange going on with some of the dinner guests, including one who might be a cult leader. Tense and smart, The Invitation is like nothing else on Shudder.
Year: 2010
Runtime: 1h 27m
Director: Joel Anderson
The fake documentary horror film got driven into the ground but not before producing this indie masterpiece, which might be the best of the found footage genre because of how genuinely dangerous it feels. Using interview footage and home movies, it details the death of a girl named Alice, who it's discovered has been haunted by something at Lake Mungo. It's a stunner.
Year: 2013
Runtime: 1h 41m
Director: Rob Zombie
One of controversial director Rob Zombie's best films is this soul-crushing saga of a small town that gets sucked into coven of Satan-worshipping women. Sheri Moon Zombie stars in the central role, but this is a piece all about Zombie's skill with atmosphere and dread. It has parts that are truly terrifying.
Year: 2003
Runtime: 1h 33m
Director: Lucky McKee
This one of the best Carrie riffs, another story of a lonely young woman who ends up turning the tables on a world she thinks has betrayed her. In this case, it's not telekinesis as much as sociopathic behavior shaped by severe trauma that defines May (the phenomenal Angela Bettis). Lucky McKee's debut remains his best film, a reminder that people like May shouldn't be underestimated or ignored.
Year: 1968
Runtime: 1h 35m
Director: George A. Romero
When a young man named George A. Romero got some buddies together to make a movie in Pittsburgh that had almost no budget, they couldn't have possibly known that they were about to change movie history. Watching this classic a half-century after its release, one is struck by how much it holds up today, tackling issues and reshaping horror movie language in a way that will never grow old.
Year: 2018
Runtime: 1h 48m
Director: Coralie Fargeat
It's been a century since Murnau changed the cinematic horror language forever with his release of the foundational vampire film Nosferatu. Max Schreck stars as Count Orlock, a creature of the night. An unauthorized adaptation of Bram Stoker's Dracula, this film reshaped the way movies dealt with horror. Note: The excellent Werner Herzog version is also on Shudder.
Year: 1985
Runtime: 1h 25m
Director: Stuart Gordon
A lot of filmmakers have tried to incorporate H.P. Lovecraft into their work either as an influence or direct adaptation, but Stuart Gordon's 1985 cult hit remains arguably the best. Adapting Lovecraft's Herbert West—Reanimator into a feature film, Gordon is fearless, making a movie that contains some of the most memorably twisted images and ideas of its era. Originally X-rated for its overall insanity, this is a riff on the classic tale of medical science gone malevolent as a doctor starts re-animating dead bodies. Never a good idea.
Year: 2022
Runtime: 1h 44m
Director: Andrew Semans
Rebecca Hall is riveting as Margaret, a successful businesswoman who has buried the trauma from an abusive ex-partner (Tim Roth) until he unexpectedly resurfaces in her world. Andrew Semans's critical smash is exclusively on Shudder, and it's the kind of truly bonkers thriller that you need to see before someone tells you to. Get on the increasingly crowded bandwagon for this future cult classic now.
Year: 2018
Runtime: 1h 48m
Director: Coralie Fargeat
Horror has too long been a man's game, so we should celebrate when a great film by a female director lands on Shudder. The people behind the company like this one so much that they've been using a blood-soaked image of its star, Matilda Lutz, in a lot of their marketing. Lutz plays a woman who is raped and nearly murdered by a trio of monsters. You will cheer her bloody, vicious vengeance.
Year: 1998
Runtime: 1h 35m
Director: Hideo Nakata
This is on the Mt. Rushmore of J-Horror, a film that really shook the entire the world. Most people know the tale by now: a cursed video tape will kill its viewer after seven days unless they can get someone else to watch it first. It's an incredibly effective film, building in tension until its final reveal, one of the most terrifying moments in horror history.
https://www.shudder.com/movies/watch/ring/8980cfc1c1b990d3
Year: 2022
Runtime: 1h 24m
Director: Jean Luc Herbulot
Culturally resonant and thrilling, this Toronto 2021 film is a Shudder exclusive now. It starts as a thriller as a group of mercenaries work to extricate a drug lord from Guinea-Bissau and take him to Dakar, Senegal. Along the way, they're forced to land in a remote village, where, well, things happen. Riveting and original, Saloum is one of the best genre films of 2022.
Year: 2020
Runtime: 1h 34m
Director: Neasa Hardiman
A victim of COVID, this indie horror film should have found a bigger audience but had a quiet VOD release in April 2020. Shudder is the perfect way to catch up with this claustrophobic riff on the Alien premise—people trapped in a remote location with something that they don't want to be trapped with. In this case, it's a fishing trawler and some sort of parasite that could kill everyone on board.
Year: 2023
Runtime: 1h 40m
Director: Kyle Edward Ball
The little movie that could is already on Shudder after a brief stint in theaters that has already netted this five-figure movie over $1 million at the box office. Filming for almost nothing in his own childhood home, Ball taps into something primal — that feeling in the middle of the night when you wake up and can sense something is just wrong. Divisive in ways that always produce fascinating conversations, this is the first essential movie of 2023.
Year: 2022
Runtime: 1h 37m
Director: Christian Tafdrup
Stop being so nice to people. That's arguably the theme of this shocking 2022 genre hit, now exclusively on Shudder. Two couples who became friends on vacation meet up again and discover they have less in common than they first thought. As micro-aggressions become macro-aggressions, this Haneke-inspired film seems to be encouraging people to stand up when they sense something is wrong, or risk never being able to stand again. The final scenes are so shocking that viewers should be warned that this is not for the faint of heart.
Year: 2019
Runtime: 1h 23m
Director: Issa López
There aren't enough films on Shudder that aren't from the United States or Asia. This Mexican offering from Issa Lopez is an exception, and it's a good one — a tender, empathetic tale of the orphans of the Mexican Drug War with stylistic echoes of one of its biggest fans, Guillermo del Toro.
Year: 2019
Runtime: 1h 29m
Director: Keith Thomas
In the Hasidic community, someone is supposed to watch over a dead body shortly after passing to ensure safe passage to the afterlife. It typically just consists of sitting quietly in a room until morning comes, but sometimes it goes wrong, such as in the case of this haunting story of a guardian who ends up having to perform duties he could never truly fathom.
Year: 2022
Runtime: 1h 31m
Director: Chloe Okuno
One of the best films of 2022, this Shudder exclusive stars Maika Monroe (It Follows) as a woman who has moved to Romania with her husband Francis (Karl Glusman). Without much to do and unable to speak the language, she starts to get paranoid that someone is watching her from across the courtyard. Stylish and riveting, Watcher is a must-see.
Every editorial product is independently selected. If you buy something through our links, New York may earn an affiliate commission.