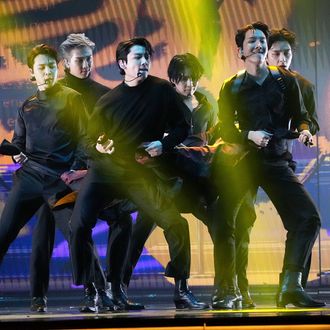 BTS performing at the 2022 Grammy Awards.
Photo: Kevin Mazur/Getty Images for The Recording Academy
It all happened so fast. Off the back of their anthology album's release in June, BTS shared a prerecorded dinner with the fans. Amidst a delicious-looking display of shrimp and meat and side dishes, the boys announced that they were taking a break from making music as a group to pursue solo projects. Looking back, the announcement wasn't surprising — BTS spent the last decade living and making music together, so a break to find their own personal sounds and stories was perhaps overdue. But in the immediate aftermath of the announcement, the news of BTS's break elicited a kind of hysteria: Hybe's stocks tanked (this would be BTS's management company), many observers speculated that the "hiatus" would look like One Direction's (namely, BTS would never return as a group), and fans began to plan for their lives without constant updates from the Tannies (some resolved to work on themselves).
The dinner was a harbinger of an announcement that led many to self-identify as a military wife: BTS is now on a three-year hiatus to complete mandatory service. Off the heels of their October concert to promote Busan's bid for the 2030 World Expo, the band announced their intention to serve in the military sequentially until a planned reunion in 2025. (Korean men are required to begin their 18-month service by the time they turn 28, though BTS was granted a two-year extension for their cultural achievements.) Jin, who turned the big 3-0 in December 2022, was the first member to enlist.
Their promise to continue making music both as a group and as soloists wasn't empty. BTS announced that they will renew contracts with their label, Hybe's Big Hit Music, agreeing to work with the company on their future releases from 2025 onwards. Big Hit Music passed a board resolution to sign exclusive agreements with the members sequentially, a press release stated on September 20. Those currently serving in the military will begin activities under the new contract when they return. "With the renewal of their contracts, we are looking forward to supporting BTS' group activities expected in 2025," the company said in a statement. "HYBE and BIGHIT MUSIC will provide all support necessary to continue to expand and elevate BTS' presence."
As expected, a BTS break to pursue solo projects hasn't meant a curtailing of activities. Instead, it's multiplied all of their activities by seven, making it nearly impossible to keep track of it all. But let's try to anyway — below, a handy little list of their group and solo activities.
After months of lying in wait for Jimin's album announcement, the label confirmed that his solo debut album, Face, arrived on March 24. BTS's Instagram account gave us a taste of what's in store on February 21. "Reflection of vulnerable minds and unexposed wounds," the text, titled "Circle of Resonance," read. "Waves originated from the deepest invisible inner world, pass through the face on the surface and reach others to resonate while transmitting the inner voice." A video dropped an hour later, confirming the album's title and release date. We fall into a dark, watery abyss in the 35-second-clip, only to find ourselves suddenly above a still pink pool as water droplets fall onto the surface.
He has had studio sessions with damn near every producer under the sun to make the record. In the past few months, Jimin met with frequent Ye collaborator Hudson Mohawke, TBHits and Mr. Franks (the engineers behind Ariana Grande's biggest hits), and Taylor Hill, to name a few. He was also pictured recording with a full choir overseen by musician Duane Benjamin days before "WAP" mastermind Ayo the Producer followed Jimin on Instagram (are we getting "Church Girl (Jimin's Version"?).
In an interview with Weverse Magazine in June 2022, Jimin said the solo album will be "raw" and "explicit." "I just think I can show something a little more raw about me. That might include a more mature side, too, but what I'm really interested in is showing something closer to my real, personal rawness directly in a format like music or music videos," he says. "I want to be better and cooler."
In the run-up to Jimin's solo studio debut, the "Serendipity" singer got to live out his wildest dreams. He featured on Taeyang's R&B track "Vibe," making good use of his honey falsetto on the smooth track that dropped January 13. "Taeyang is an idol to me," he told W Korea in a cover story, which arrived in January, the same month Dior made him its brand ambassador and sent him to its Paris Fashion Week show. "You can say that working with him is one of the goals that I've been longing for. Ever since I was young, I've followed his career and learned a lot from him … Working with him made me realize that I want to be an artist who is an amazing singer as well as a performer."
Everyone: Happy Hobiuary. Last July, J-to-the-희망 jumped out the box with a new album. And during his birthday month this past February, he released a documentary on Disney+ that chronicles the making of his first studio album and the promotions that went along with it. J-Hope in the Box hit streaming on February 17. The documentary's release might signal the end of the rapper's first solo era, but that doesn't mean he's going off the grid. J-Hope made his Paris Fashion Week debut at three separate F/W 2023 shows — Louis Vuitton, Dior (with Jimin), and Hermès — perhaps kicking off some fashion-related globe-trotting. Plus, he teased a reboot of Hope on the Street, a show where he performs street dance and sometimes brings a guest along.
Prior to the documentary's debut, J-Hope capped off 2022 with multiple musical appearances. He performed a medley of songs for Ryan Seacrest's New Year's Rockin' Eve in Times Square: "Equal Sign," "Chicken Noodle Soup," and "Butter (Holiday Remix)." He also did his rounds at Korean awards shows, performing an intricately staged, large-scale rendition of "More," "Arson," and "Future" at the MAMA Awards on November 30.
The rapper featured on Crush's "Rush Hour," a groovy hip-hop track dropped on September 24. Along with the song came a '90s-inspired music video with exuberant choreography (obviously, the dance aficionado expertly hit every step). The virtuoso made his solo stage debut at Lollapalooza Hobipalooza on July 31, 2022 an hour-long showcase of his skills as a seasoned entertainer, performing tracks from Jack in the Box, his mixtape Hope World, and various BTS albums.
J-Hope concluded Hobiuary by making one final announcement: he's officially enlisting for mandatory military service, per his record label. While he was in the process of enrollment, music was still a priority; his latest single "on the street" dropped on March 3, 2023, just over a month before he enlisted on April 18.
Suga and his alter ego Agust D are hitting the road, he announced on February 14 as a Valentine's Day gift to me. He will make history as the first BTS member to embark on a solo tour, but more importantly, as the first member to hit the stage, in Hannah Montana fashion, as two people at once. Will he have a wig to differentiate between Suga and Agust D? He better!
After his tour, Suga will become the third BTS member to enlist. BIGHIT announced on August 7 that Suga has begun the process of enlisting, by terminating his postponement. He will enlist September 22, per Billboard.
Before the tour announcement, the "Daechwita" rapper also made his Paris Fashion Week debut at Valentino's couture show last month after being named a brand ambassador. His other ambassadorship? An unofficial partnership with the NBA. The league invited him to Japan for a game last year, where he got to kick it with the Golden State Warriors and look tiny.
In April 2023, we finally got an update on his musical output. Suga's first solo record, D-Day, will come out April 21. It's technically not Suga's album, since D-Day is credited to Agust D.
Meanwhile, he's hosting a talk show where he provides the food and atmosphere while the guest provides the alcohol. Suchwita airs on their YouTube channel, BangtanTV. Guests thus far include Hoshi from the K-pop boy group Seventeen, Big Bang member Taeyang, bandmate RM, and more.
After months of teasing new music with unsubtle pics of album files and Logic Pro screenshots, RM released his ten-track debut solo album, Indigo, on December 2, 2022. "Indigo recounts the stories and experiences RM has gone through, like a diary," a press release states. He kicked off his colorful new era with a music video for "Wild Flower," which features youjeen (also known as Cherry filter vocalist Jo Yujin). NPR also booked him for a Tiny Desk concert, which premiered the same day the album dropped.
RM performed groovy renditions of new tracks and old favorites for an intimate Tiny Desk (Home) Concert, which was likely filmed at a Tiny Desk look-alike set in Seoul. He fittingly opened the three-track set with a poetic cut from his 2018 mixtape mono, named for and describing the ambivalent feelings he has about the metropolis where he found fame. After a short introduction to the new record Indigo, he dived straight into the album's opening song, "Yun," a neo-soul tribute to his favorite artist Yun Hyong-keun, an abstract painter belonging to Korea's Dansaekhwa art movement, who inspired the lyric "I wanna be a human / 'fore I do some art." RM doubles down on the allusions to art and exhibitions in "Yun" during his preamble to the last track on the set list, "Still Life." "My life is like a canvas," he began. "I'm exhibiting my life to the world … but a still life is still, you know, stuck in the canvas, but it is alive and eternal and still moving forward."
"I've worked hard on it for four years," RM said of the album on November 10, 2022 per a fan translation. "It's very different from my previous works, and fun people are included in it." The full tracklist features Erykah Badu, Anderson .Paak, Tablo, Paul Blanco, Mahalia, Kim Sawol, youjeen, Colde, and Park Jiyoon. Despite fan predictions, Pharrell was not one of the fun people in question. Pharrell previously said he wanted to make a song for RM's upcoming album in the duo's Rolling Stone "Musicians on Musicians" interview (the producer already cut a different track with the group for his own upcoming album, Phriends). Others had speculated that Jungkook and J-Hope would also make an appearance, alongside Korean R&B singer BIBI, but none of them showed. Hey, there's always the conspiracy theory that RM has a secret second album on the way.
RM's last solo release arrived in September of that year, when he featured on alternative K-pop group Balming Tiger's hip-hop track "Sexy Nukim." ("Nukim" means "feeling" in Korean … We suggest you watch the many angles of RM's first live performance of the song, where he embodies the track's ethos to a terrifying degree.) He previously released two solo mixtapes — mono in 2018 and RM in 2015. Meanwhile, he's slated to host the Korean variety show The Dictionary of Useless Human Knowledge, where the show's expert panelists discuss literature, physics, forensics, and astronomy. It airs weekly beginning December 2.
Oh, and aside from all that, he's still doing art things.
The art philanthropist–slash–influencer was named one of 35 innovators in the art scene by Artnet in 2022. "RM, the leader of global K-pop sensation BTS, has made no secret of his love for art," reads his introduction. "He's an avid collector, buying works by Korean artists […] He's also a savvy art patron with an enormous reach on social media, inspiring droves of BTS fans to seek out exhibitions ranging from the Museum of Fine Arts, Boston's Philip Guston show to presentations of traditional Korean white porcelain moon jars in Hong Kong and Korea."
The youngest was the first to release a track in the post-BTS-break world, an the first member and first Korean to perform at the World Cup's opening ceremony on November 20, 2022 debuting a new single, "Dreamers." "Proud to announce that Jung Kook is part of the FIFA World Cup Qatar 2022 Soundtrack & will perform at the World Cup opening ceremony. Stay tuned!" BTS said on Twitter. While fans expressed their pride for the 25-year-old pop star, some online found the decision to participate in the event controversial due to Qatar's human-rights record, which includes criminalizing homosexuality. Days after Jung Kook was added to the slate, Dua Lipa said she refused to perform at the event and looks "forward to visiting Qatar when it has fulfilled all the human rights pledges."
Earlier that summer, Jung Kook featured on Charlie Puth's summer earworm "Left and Right," singing about how he can't get a vague lover out of his head because they "did things to me that I just can't forget." The song is cute and very fun to drive to. The music video is the second one to depict Jungkook both getting hit by a car and perhaps having a gay lover.
Most recently, Jung Kook dropped single "SEVEN," with an accompanying short film. There is still no word yet on when the full album will come out.
Fresh off the release of his first solo single, "The Astronaut," on October 28, 2022 — the song earned Jin his first solo Hot 100 hit, debuting at No. 51, along with a top spot on Billboard's Digital Song Sales chart — the eldest has been working the variety-show circuit. As of writing, he made appearances on Running Man, Halmyungsoo, and rapper Young-ji's talk show Nothing Much Prepared (the latter gets chaotic and real about the cost of fame … plus, the host passes out drunk in the bathroom, so Jin has to close the show alone). He also became the spokesperson for the ramen brand Jin Ramen in November of last year. You'd think he would have already earned that gig, but, yeah, his dream collab only just came true.
Jin also hosts a new variety show with famous Korean chef Baek Jong-won. The series is centered on two things: making alcohol and eating food, with special guests and random activities sprinkled in to keep it spicy. Jin's Traditional Alcohol Journey premiered November 12, 2022 on BTS's YouTube channel.
Before leaving for the military on December 13, 2022 to complete his mandatory service, Jin got the ball rolling on plans to distribute the alcohol he learned how to make in the variety show with the famous chef. "Jin is preparing a brewery under his name," Baek said in an interview with OSEN. "He's been filling oak casts with alcohol, which should be ready to drink by the time he's discharged from the military. I want to add oak scents and flavors to soju, similar to whisky. There's no official name of this drink we're creating just yet."
The cool shade stunner has a solo album coming out. Layover has six tracks and dropped September 8. Each song will have a music video, starting with lead single "Love Me Again."
V also had starring role in a new variety series. Jinny's Kitchen takes Taehyung and his famous friends, Park Seo-joon (Itaewon Class), Choi Woo-shik (Parasite), and Jung Yu-mi (Kim Ji-young: Born 1982), to Mexico, where they open up a Korean eatery run by popular actor Lee Seo-jin. Everyone except the BTS member has participated in show's previous iterations — Minari's Youn Yuh-Jung used to run shops in Spain and Bali for Youn's Kitchen and a traditional hotel for Youn's Stay — so naturally, the green pop star is the intern-slash-dishwasher for Lee's establishment. It hits Amazon Prime Video weekly starting February 24.
Before Jinny's Kitchen, V landed on the cover of Vogue Korea in September, teasing music that would show a new side of the artist. "I want to present a kind of music that I've never tried before, something that sets apart from the style BTS's V has shown," he told the magazine. "Being able to pursue one's own music style lights the passion and enthusiasm in us. That's what keeps us in love with what we do." Though nothing has been confirmed, outlets report his debut solo album will arrive sometime next year (Tae's been teasing his solo stuff for a while, but has admittedly deleted everything that doesn't make the cut).
Over the summer, he featured in Disney +'s In the Soop: Friendcation, a variety show that follows a four-day friendcation to a seaside town with Choi Woo-shik, Park Seo-joon, Park Hyung-sik (Strong Woman Do Bong Soon), and musician Peakboy. The show premiered on July 22.
The rumor mill also teases a return to acting — he had a part in the K-drama Hwarang: The Warrior Poet in 2016 — though there's really been no confirmations in that department. People really want to see him in Squid Game 2.
BTS is back! Through archival footage and interviews, anyway. The group is reportedly adding author to their resume by releasing a book titled Beyond The Story: 10-Year Record of BTS on July 9, 2023. Written by the band and journalist Myeongseok Kang, the book is an oral history of the making of the group over the ten years they've been together. However, if you're not a reader, as part of a deal between Hybe and Disney, BTS released a 4K concert film, BTS: Permission to Dance on Stage — LA, tied to their November 2021 show in Los Angeles. Meanwhile, the group is also getting an original docuseries. According to Disney, BTS Monument: Beyond the Star will include "a vast library of music and footage over the past nine years," as well as "the daily lives, thoughts, and plans of BTS members, as they prepare for their second chapter." The docuseries is scheduled to start streaming sometime in 2023.
Despite announcing a hiatus, BTS continues to release music as a group. Most recently, they commemorated their upcoming 10th anniversary by gifting fans with the single "Take Two." In May, band created the theme song for the Korean animated film Bastions titled "The Planet," marking their first official song since last year.
In August, the band's vocal line (Jungkook, V, Jimin, and Jin) released a track with Snoop Dogg and Benny Blanco, "Bad Decisions."
This is a developing story.