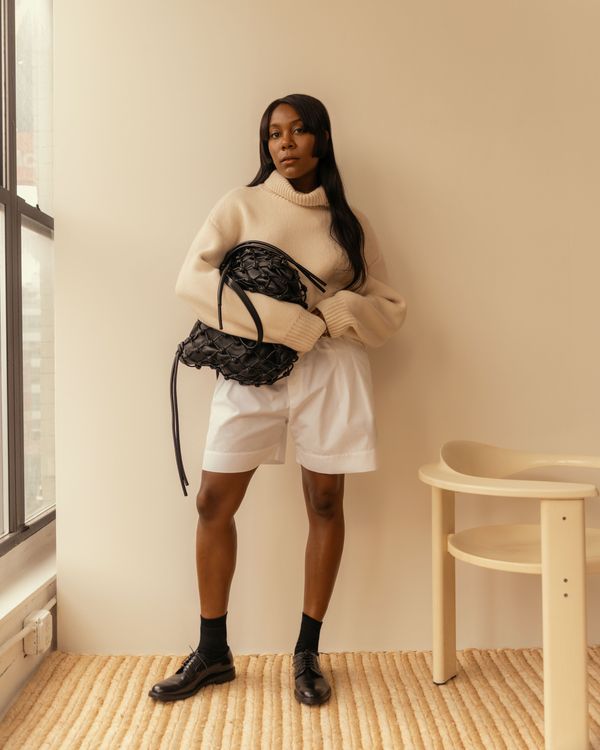 For more of the Cut's favorite fashion, beauty, and home finds, sign up for the weekly Cut Shop Newsletter.
As we settle into fall, we're still dealing with some residual summer weather. This week, the Cut's fashion director, Jessica Willis, tackles a transitional piece for this weird weather: boxer shorts. It seems intimidating (wearing boxers outside?), but it's actually an easy piece to style. Employing her key style words, timeless, functional, and edgy, Willis has created a chic look to help you savor the last bits of summer, comfortably of course.
This look is all about comfort and unexpected pairings. "Why not wear your pajamas outside?" Willis asks. "We're coming out of summer, where your clothes are loose and free. This is a way to ease back into school or work without fully committing."
The star of the look is this pair of easy, relaxed cotton boxer shorts. They have an elastic waistband and a wider fit throughout the leg and pockets, so they're comfortable but still practical. What makes these perfect for wearing outside is that they're a little bit thicker than regular boxer shorts (so they are not see-through) and they have more shape and structure, Willis explains.
Willis suggests opting for something a little unexpected like a turtleneck or structured shirt. "Since they don't go together, put them together," Willis says. "It makes your outfit feel a little more quirky and less serious."
The cream-colored knit helps to tone down the stark whiteness of the shorts, but it's also a great layering piece. "I'd even throw a trench coat on top of this look," she says. "The turtleneck looks nice peeking out of a jacket."
Again, what really makes this outfit work is dressing somewhat counterintuitively, so for footwear, Willis went with a pair of brogues and crew socks. The shoes contrast with the softness of the look and colors. "It seems like it shouldn't make any sense at all, but it's playing on the unexpected," she says. "It's about feeling confident and comfortable and wearing the unexpected."
Willis added this oversize leather bag from Proenza Schouler to the look, which is practical but also incorporates a few elements of summer. If you spent the past few months vacationing and tucking your belongings away in a macramé bag, this is a more practical version that will fit everything you need.
Here are seven pairs of relaxed boxer shorts to help you re-create this look.
This striped pair features plenty of pockets and belt loops, so you can accessorize with the belt of your choice.
Another stark-white option if you love the look of the Saks Potts pair.
Or yellow, if you prefer more muted tones.
If you love the little details, you'll love this pair, which features a curved silhouette on the hem, the brand's label, and, of course, pockets.
Add some subtle color and details with this taupe pair, which also features buttons and an elastic waistband.
Or add some not-so-subtle color with a bright blue. It's still neutral enough for cream colored knits and tees.
If you can't bear to part with your all-black wardrobe, this cotton pair in black is just as relaxed and easy to wear.